Oxfordshire Care Awards 2023 Winners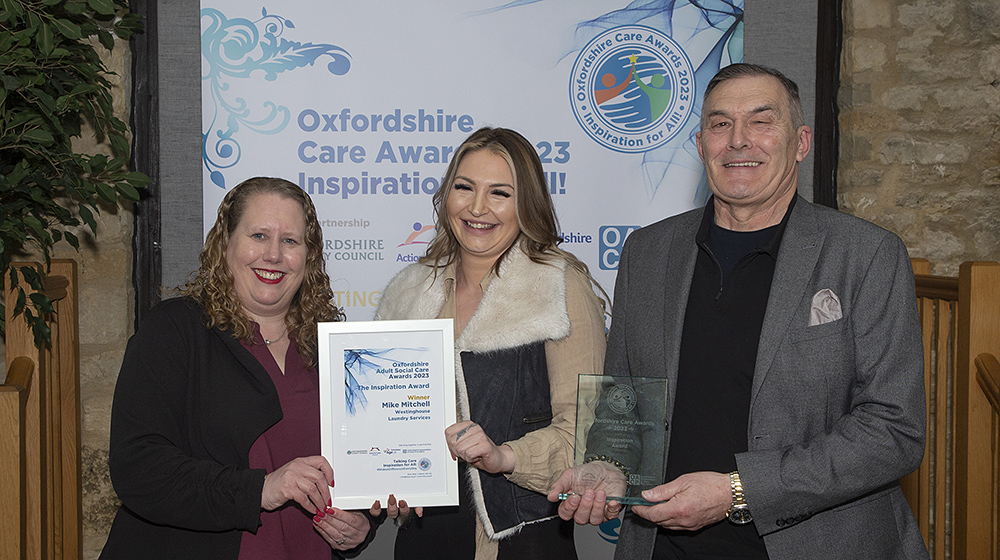 25/04/23

The very best carers in Oxfordshire were celebrated at the Oxfordshire Care Awards on the 24th of April 2023 bringing together unpaid carers, the community and voluntary sector, and statutory and independent care providers.

Organised by the Oxfordshire Association of Care Providers (OACP) and hosted in partnership with Action for Carers Oxfordshire and Age UK Oxfordshire, the ceremony was held at the Voco Oxford Thames Hotel in Sandford-on-Thames.

Kay Francis, Head of Carer Services at Action for Carers Oxfordshire, who presented The Unpaid Carer Award said: "We had such a wonderful afternoon celebrating the fantastic care provided by wonderful people in Oxfordshire. Valuing the contribution care workers, volunteers and unpaid carers make in our communities is often humbling and always an honour".


Winner of The Unpaid Carer Award: Phil Foster
Phil cares for his wife with dementia and runs a dementia carers group in Banbury. He was nominated for The Unpaid Carer Award by Moira Collier, Outreach Worker at Carers Oxfordshire. "I nominated Phil as despite caring for his partner with dementia for over ten years, he still set up a group to support other carers who are going through a similar experience. He is awesome."

When presenting the award, Kay Francis highlighted the importance of celebrating unpaid carers: "Caring is such an important part of life, it will cross most of our paths at some time or other. Carers are the glue that keeps family together. They unselfishly dedicate themselves to looking after someone else."

Kay explained why Phil had won the award. "There are people that go above and beyond their caring role and we're here to celebrate that today. Despite dealing with the challenges of caring for someone with dementia when the local Banbury support group couldn't run anymore, Phil stepped in and started to run his own group. It has been a godsend for lots of people."
Phil set up the support group because "I know how it feels to be on your own without any support." He explained what it's like to be part of the group. "We are all here to help one another. Recently the group all helped someone to make a decision about a care home and another person to decide about a day-care service. We have a WhatsApp group to raise queries and the response is terrific. We also meet twice a month."
Phil explains how he felt when he found out he'd been nominated. "I felt… I'm not sure if humbled is the right word but surprised. I don't know if I've done anything different to anyone else, but Moira put me forward. My daughter is over the moon."


Highly commended for The Unpaid Carer Award: Lilly Croft
Lilly Croft was highly commended for The Unpaid Carer Award. Lilly cares for her Dad who nominated her. "Despite having her own health problems, she has never stopped caring for me. She makes sure I take my medication, that I've eaten. She takes me out to the hospital and doctor's appointments. She never complains even though I know she gets tired. She's seen me being resuscitated but she never gives up! She always goes above and beyond. I can't thank her enough for her 'dignity in care' – she helps wash and dress me. I honestly would be stuck without her help, which is why I'm nominating her".
Lilly said of her Dad "Honestly my Dad is my best friend. He helps me in ways that only dads can, and I'm so thankful for that. I love supporting my Dad when he needs me and making sure he's got what he needs when he needs it, he's my hero."


Winner of The Inspiration Award: Westinghouse Laundry
The Inspiration Award is for a business (not a health or care agency) that inspired others with its high standards of care and compassion and goes out of its way to assist individuals who need extra care in their daily life.

The award was presented to Mike Mitchell, owner of Westinghouse Laundry who provided an invaluable service for unpaid carers across Oxfordshire. Over six months in 2022 Mike and his team collected 356 bags of laundry from carer's doorsteps. Then washed, ironed and returned them to the carer within 48 hours.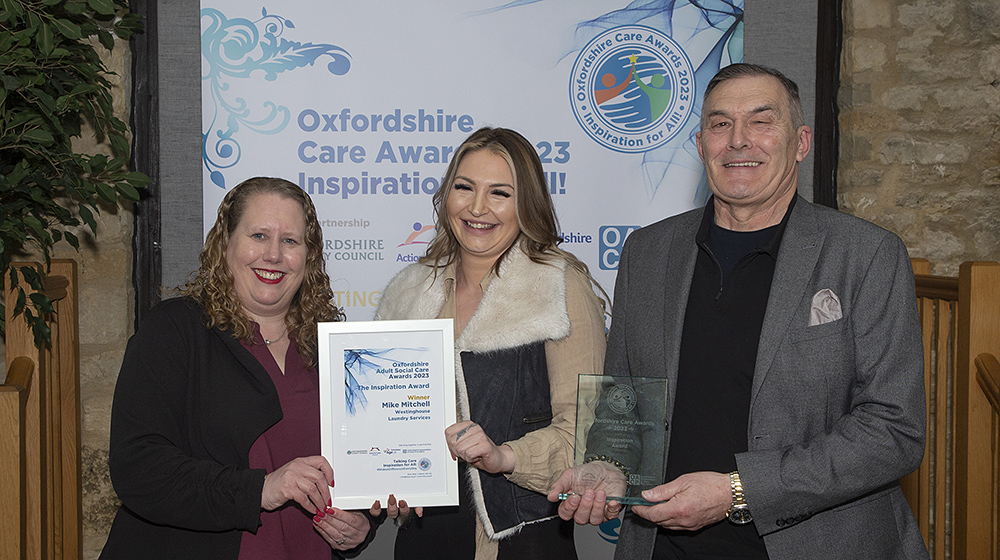 Not only has this service helped carers take some time for themselves without having to worry about washing and ironing clothes for their families, but it also helped them reduce their energy bills. Importantly it's helped them to feel less tired, re-energised and more able to care for the person who relies on them.
One of the people who used the service said "It's allowed me time back, and took pressure off which helped my mental health and in turn means I have more to give to my children. I have so much other stuff to do for my cared-for, ironing is often neglected, and we have clothes never worn as they look too messy to wear. It's been a real treat being able to wear these clothes and defo gives me a lift of spirits."
Mike described the effect his service had "When we dropped off the laundry carers were really happy, smiling, some were crying with happiness. One lady – her children were going to school for the first time with their clothes ironed, she was overwhelmed. Another lady said she looks after her son and father and never gets any time for herself. We gave her two hours a week to herself to do her own thing, she called it 'her time'. An elderly man whose wife had dementia – he was able to do the washing, but not the ironing and described it as a 'godsend'. There were so many stories. It was great to hear the difference it makes to someone's life."

The full list of winners and those highly commended is available at www.oacp.org.uk